Arizona Spice Company Seasoned Kale Chips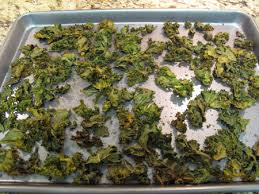 Ingredients:
1 bunch kale (Curly has a great texture but I like the flat)
1 teaspoon olive oil
½ teaspoon Salad and Vegetable Seasoning (you can add more to taste)
Directions
Preheat an oven to 350 F Line a non insulated cookie sheet with parchment paper.
Wash the kale and shake off excess water. (dry kale is best)
With a knife or kitchen shears carefully remove the leaves from the thick stems and tear into bite size pieces. ...Throw away the stems or use them in soups. They do not make good chips.
Pour olive oil, seasoning and kale pieces into a bowl and toss well
Shake off any excess liquid and spread evenly onto cookie sheet. (a single layer is best)
Bake until the edges brown but are not burnt, 10 to 15 minutes.
It is hard to get the kale chips just right. There is a fine line between removing the moisture and burning them. It might take some practice to get it just right.
Feel free to add comments below. I appreciate any feedback or comments.
Thank you,
Debbie Roberti
The captcha you entered is incorrect. Please try again.