Arizona Spice Company Green Chile and Garlic Kale www.azspiceco.com/recipes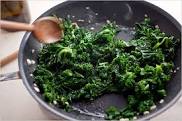 INGREDIENTS
INSTRUCTIONS
In a large skillet or Dutch oven, heat the oil over moderate heat. Add the garlic and chili flakes and sauté for two minutes, until the garlic just begins to brown.

Add the kale in batches and toss to coat with oil. When all of the kale is added to the pan, cover and sauté for 5 minutes.

Remove the lid, season with the Green Chile Seasoning Mix, and continue cooking for three minutes, or until the moisture has mostly evaporated. Serve immediately.

Makes a great side dish to fish.
The captcha you entered is incorrect. Please try again.